DECISION-MAKING TOOLS
NOE is an Internet solution available to HR Managers and their employees.
In just a few clicks the legitimate questions asked by the candidate when consulting a job offer involving a move will be answered.
Indeed, mobile employees must be able to read into opportunities and understand constraints in their host territory in order to project their aspirations in terms of lifestyle. NOE enables employees to quickly and easily find the information they need to begin to lift their uncertainties and thus project themselves into their future workplace and life.
NOE's goal is to give personalized answers to your candidate's needs and questions.

CONCRETE GEOGRAPHIC MOBILITY
When considering geographical mobility, the employee naturally tries to imagine his future place of life. In a few clicks NOE answers his questions:
How many sqm will I gain (or lose) in my future home?
For what rent?
Which transports to get to work and how long will it take?
How is the job market in my spouse's sector?
Which school to choose for my child?
PROFESSIONAL GEOGRAPHICAL MOBILITY: A TOTAL SOCIAL EXPERIENCE
In case of geographical mobility, your employee will lose all or part of their usual bearings, both professional and personal.
Work-life balance decisions will necessarily come up.
Your job opportunities are therefore not just job vacancies and missions to be realized but also future work environments ... and life.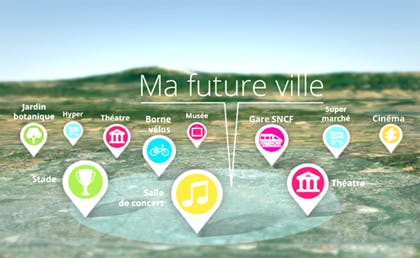 WITH NOE, YOUR TALENTS APPLY WITH GREATER KNOWLEDGE
YOUR BENEFITS

BUILDING SOLID MOBILITY PROJECTS
With NOE, you receive applicants who have thought about their move
You can then avoid recruitment failures, especially when the talent finally realizes the excessive impact the mobility will have on their personal life.

BOOST YOUR MOBILITY FLOWS
NOE contributes to the success of mobility by providing appropriate responses to your employees. It increases the possibilities.
You then lift all the barriers to professional geographical mobility.

INCREASE THE VISIBILITY OF YOUR ADS
By associating NOE with your ads, you demonstrate your interest in the personal / professional life balance of your employees;
Your employer brand is thus valued.
INNOVATIVE ACTORS
Via Humanis, Flunch and April's HR Development Managers and sociologist Thomas Sigaud have pooled their skills and feedback to offer businesses a new approach.
Valérie Cordonnier - PIZZA PAÏ

Formerly Head of Human Development at Flunch, she is now Director of Human Resources at Pizza Paï. She wanted to participate in the NOE project because she was on the lookout for innovative projects to promote geographical mobility.

Raphaël Demange - VIA HUMANIS

Founder of Via Humanis and Managing Director. His career has led him to take an interest in the geographical mobility of employees. His desire: to develop mobility within companies by offering them innovative solutions and personalized support for their employees.

Véronique Galdin - APRIL

Today, Director of HR Development France, she wanted to participate in NOE to meet the challenges of geographical mobility. At the start of the NOE project, she was Head of Recruitment and Mobility within the APRIL Group's branch network

Thomas Sigaud is a sociologist and associate researcher at the Center for Employment Studies, specializing in the study of the link between housing and employment in France.
His research focuses on the role of mobility in workers' lifestyles, human resources management practices of companies, and employment policies.